This product is currently not available.
Product Code:

K2-1092-1001

Manufacturer Code:

C8036-WH

Package Type:

Packet

Shopping Category:

Hardware > Building Materials > Roofing > Gutter Accessories
Inline Joint with Outlet for K2 Gutters White, Chocolate Brown and Caramel Includes...
more
Product information "K2 C8036 Running Outlet"
Inline Joint with Outlet for K2 Gutters
White, Chocolate Brown and Caramel
Includes rubber gaskets and clips
Tough inline joint for connecting K2 conservatory gutter while providing an outlet for rainwater downpipe.
K2 GUTTERING IS NOW OBSOLETE:
Production of K2 roof and gutter ceased when K2 went into administration several weeks ago, and we no longer have stock of replacement parts. However, we have produced a Replacing K2 Gutter System guide that describes how to replace K2 guttering with Marshall Tufflex Universal Plus, an ogee system which has ascalloped front like K2 gutter, but provides a higher flowrate and is more watertight.
Within the guide, we demonstrate how Marshall Tufflex (RWKFB2) face-fit brackets can be fitted to align the replacement gutter in the right place to work effectively under the K2 roof. We also introduce the common components, to help you choose the parts you need.
Running outlets act as a union between separate sections of K2 Ogee profile guttering and feature an outlet to which downpipes are fitted.
To be certain that this running outlet is compatible with your guttering, please check the following dimensions.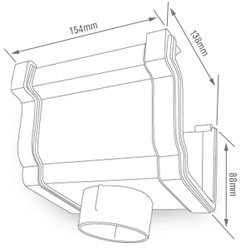 Features & Benefits
Easy to Fit - no screws or tools required
Long Life Expectancy - tough and UV stable
Zero Maintenance - no annual maintenance
Looks Great - attractive sculptured profile
Watertight - includes rubber gasket seal and tension clip
---
Technical Information
| Measurement | Value |
| --- | --- |
| Trough Width | 138mm |
| Back Depth | 88mm |
| Length | 154mm |
| Outlet Width | 60mm |
| Outlet Height | 32mm |
| Material | PVC-u (unit and clips), EPDM Rubber (gaskets) |
| Colour | White, Chocolate Brown (Mahogany/Rosewood), Caramel (Oak) |
| Compatibility | K2 Ogee Gutter (P6025/P6026) |
---
Easy Fitting of C8036 Gutter Corner
Ensure that gutter clips are released from the front face of the corner piece
Guide the adjoining gutters into the corner piece
Ensure the gutter is trapped under hook on rear of the gutter clip
Pull front of gutter clip over corner piece to securely trap the gutter.
Related links to "K2 C8036 Running Outlet"
Read, write and discuss reviews...
more
Customer review for "K2 C8036 Running Outlet"
Write a review
Reviews will be activated after verification.