This product is currently not available.
Product Code:

K2-1097-1001

Manufacturer Code:

C8043-WH_X5

Package Type:

Large Letter

Shopping Category:

Hardware > Building Materials > Roofing > Gutter Accessories
Concealed Brackets for K2 Conservatory Guttering (Pack of 5, in Chocolate Brown or...
more
Product information "K2 C8043 Conservatory Gutter Bracket (5 Pack)"
Concealed Brackets for K2 Conservatory Guttering
(Pack of 5, in Chocolate Brown or Caramel)
Strong and discrete support
Pack of 5, concealed top hung gutter brackets (C8043) for K2 conservatory roof and ogee profile gutter. Simple clip-and-lock fitting to conservatory eaves beam makes adding brackets quick and easy - with no need for screws.
K2 GUTTERING IS NOW OBSOLETE:
Production of K2 roof and gutter ceased when K2 went into administration several weeks ago, and we no longer have stock of replacement parts. However, we have produced a Replacing K2 Gutter System guide that describes how to replace K2 guttering with Marshall Tufflex Universal Plus, an ogee system which has ascalloped front like K2 gutter, but provides a higher flowrate and is more watertight.
Within the guide, we demonstrate how Marshall Tufflex (RWKFB2) face-fit brackets can be fitted to align the replacement gutter in the right place to work effectively under the K2 roof. We also introduce the common components, to help you choose the parts you need.
Features & Benefits
Easy to Fit - no screws or tools required
Long Life Expectancy - tough and UV stable
Zero Maintenance - no annual maintenance
Discrete Design - top hung so unseen from ground


---
Technical Information
| Measurement | Value |
| --- | --- |
| Length | 132mm |
| Height | 54mm |
| Material | PVC-u |
| Colour | Chocolate Brown (Mahogany/Rosewood), Caramel (Oak). These brackets are no longer manufactured and there is no supply of white, please consider an alternative colour. |
| Compatibility | K2 Ogee Gutter (P6025/P6026) |
---
Fitting K2 C8043 Gutter Brackets
K2 C8043 bracket features moulded clips at the top and the bottom of the bracket body that are used to secure the bracket to the eaves beam. The following instructions should help you to fit the brackets and replace the guttering.
Introduce the bracket, in it's normal upright position, to the eaves beam
Fit the top clip over the top lip in eaves beam and pivot down to cause bottom clip to lock into place and secure the brackets
The gutter can then be introduced to the bracket with the outside edge hooking over the end of the bracket
Then pivot the gutter to swing the inside edge of the gutter up to the bracket until it clips into place.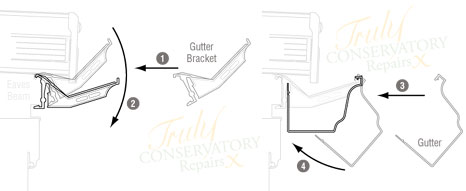 Related links to "K2 C8043 Conservatory Gutter Bracket (5 Pack)"
Read, write and discuss reviews...
more
Customer review for "K2 C8043 Conservatory Gutter Bracket (5 Pack)"
Write a review
Reviews will be activated after verification.