Product Code:

KLO-1632-1003

Manufacturer Code:

977236_X10

Package Type:

Parcel M

Shopping Category:

Hardware > Building Materials > Roofing
Klober now even easier to fit with new Uni-Click system! Plan to use with...
more
Product information "Klober Uni-Click Dry Verge Roof Kit"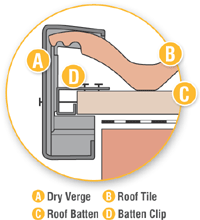 Klober now even easier to fit with new Uni-Click system!
Plan to use with existing dry verge?
If so, you may want the older Uni-Dry system.
---
See the difference...


---
Also, Uni-Click units are 57mm deep, while Uni-Dry are 70mm.
NEW

Uni-Click Dry Verge Roof Kit from Klober
(Choice of colour, end cap style and pack size)
Ultimate, easy-fit gable-end roof kit!
Everything needed to secure and weatherseal your roof verges. This kit includes tough and UV-stable dry verge units that fit quickly and neatly to provide attractive, mortar-free securing of most makes and profiles of concrete tile.
Manufactured by Klober, a leader in roof products, versatile Uni-Click can be used with 260-350mm batten gauge on new build or existing roofs between 12.5° to 90° pitch.
Contents of Dry Verge Kit
Uni-Click is the easy-fit successor to the Uni-Dry system from Klober. Uses the same Eaves Ridge Pack and Ridge End Caps but units are not compatible with older Uni-Dry system and can't be used together.
---
Why Choose Uni-Click Dry Verge
Uni-Click fully complies with all relevant British Standards and dry verge systems are now recognised as the best method of securing eaves roof tiles and is recommended by NHBC, the UK's largest provider of new home warranties.
Quick fit system - no special tools, just click in to place and nail
Resistance to Tile Uplift - roof tiles held firm, even in strong winds
Zero maintenance - years of mortar free protection
High quality - tough and UV stable plastic
Mortar-Free - not affected by expansion/contraction and sever weather
Mechanical Fixings - fit with reliable fixings in any conditions
---
What's in the Klober Uni-Click Dry Verge Roof Kit
Uni-Click Dry Verge Units
(Left-hand and right-hand. Choice of quantities.)
Molded from durable PVC-u. Interlock neatly and fit securely, to offer a consistent appearance. Attractive and hardwearing they are also versatile, with an interlock range of 65mm that allow evenly spaced units. Find out more...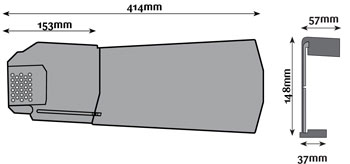 Dry Verge Ridge End Cap
(Half Round or Universal Angle)
Klober produce two styles of hardwearing and UV safe polypropylene dry verge ridge end caps, these are the Half Round and the Universal Angle. So you can be certain that there is a style to suit your property. Find out more...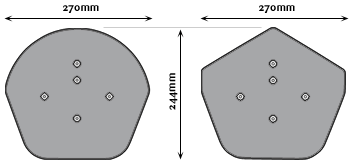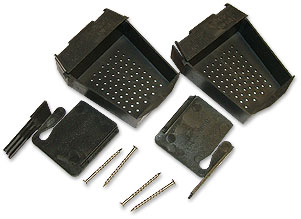 Dry Verge Eaves Ridge Pack
(2x eaves and 2x ridge closures)
Everything needed to finsh off verges of one complete gable end. It includes two Eaves Closures, also known as Starter Blocks, two Ridge Closures and four Spiral Nails. The closures are made from hardwearing PVC-u and provide a secure mechanical fixing of Uni-Click Verge Units. Find out more...
---
Quick and Easy Fitting
The following provides a summary of the recommended steps for typical fitting of the Klober Uni-Click dry verge system.
Basic Procedure
Prepare verge by removing any old mortar between the tiles and undercloak.
Fit Batten End Clip to end of every batten (extend tile battens 20mm beyond gable wall or bargeboard if required).*
Fit Eaves Closure to end of fascia board or brickwork.
Fit first Uni-Click Dry Verge unit by sliding over Eaves Closure and bottom tile, then nail to batten through Batten End Clip.
Fit subsequent units (one per roof tile) until reach ridge

Hooking under to engage with previous.
Click it over top of previous.
Slide up into position - inline with roof tile.
Nail to batten through batten end clip.

Insert Ridge Closure into last unit.
The combs of the left and right Ridge Closure should interlock at the apex.
Screw the Ridge End Cap to the ridge batten.
Please note: Dry verge units can be fitted to a timber batten running from eaves to ridge rather than individual roof battens.
Related links to "Klober Uni-Click Dry Verge Roof Kit"
Read, write and discuss reviews...
more
Customer review for "Klober Uni-Click Dry Verge Roof Kit"
Write a review
Reviews will be activated after verification.