Product Code:

LBS-1191-1001

Manufacturer Code:

LB020-WH

Package Type:

Packet

Shopping Category:

Hardware > Hardware Accessories > Hardware Fasteners > Threaded Rods
3-Way Conservatory Roof Tie-Bar Boss Lugs and Clevis Kit - Caramel Available in White,...
more
Product information "3-Way Conservatory Tie Bar Kit"
3-Way Conservatory Roof Tie-Bar Boss Lugs and Clevis Kit - Caramel
Available in White, Chocolate Brown and Caramel
All fixings for the fitting of threaded conservatory tie-bar rods.
This high quality, strong and decorative, Tie Bar Kit contains everything needed to fit conservatory threaded tie bar rods and maintain the integrity of a conservatory roof.
Why fit tie bars?
Tie Bars are vitally important on conservatories. On larger sized or glass roofed conservatories, tie bars are often necessary to ensure the structural integrity of the conservatory. The bars run across the width of the conservatory at the base of the roof. They are fastened to the roof spars and meet in the middle at an attractive boss, which is then attached to the central ridge above. Tie bars protect the roof against movement and helps to maintain the structural integrity.
The rods when used with one of our kits have been designed to look as attractive as possible. Conservatories without tie bars over time or under stress from the weight of snow or wind etc.. can bow, distort or move out of alignment. Any movement of a wall frame, outside it's designed tolerances, can cause roof panels to slip and seals to fail, which results in leaks that can be difficult to find, in extreme cases roofs have collapsed due to the absence of a tie bar. Our Tie Bar Kits have been designed to provide a purpose made, structural, off-the-shelf attractive solution.

Features & Benefits
Attractive colour coded boss
All screws & nuts have covers
Mild steel & zinc plated
Variable angles of roof not a problem
Can be used to correct some distortions
---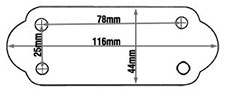 Tie Bar Lug Dimensions / Footprint
Use the above dimensions to check that the lug will fit your roof spars.
Technical Information
Finishes available:

White (Powder Coated)
Chocolate Brown (Powder Coated)
Caramel (Powder Coated)

Lug Fixing Space Width
25mm (centre to centre)
Lug Fixing Space Height
78mm (centre to centre)
Lug Footprint Size
44mm x 116mm
Related links to "3-Way Conservatory Tie Bar Kit"
Read, write and discuss reviews...
more
Customer review for "3-Way Conservatory Tie Bar Kit"
Write a review
Reviews will be activated after verification.