Product Code:

SEC-1150-1001

Manufacturer Code:

WFDFSL1260

Package Type:

Large Letter

Shopping Category:

Hardware > Hardware Accessories > Hinges
Pair of 12" Window Stay for Side-Hung Window 13 or 17mm stack height Smooth operation...
more
Product information "12" Securistyle Window Friction Hinge (Side Hung)"
Pair of 12" Window Stay for Side-Hung Window
13 or 17mm stack height
Smooth operation and high performance
Designed as a pair of hinges for side-hung windows. Capable of holding windows in any open position by means of friction.
Designed by Securistyle, a leading manufacturer, the Defender range of friction hinges is tough, durable and offer truly reliable weather sealing of uPVC and aluminium windows.
Features & Benefits
Enhanced weather sealing - enclosed end caps, asymmetric location system and profiled vent are all help
Long life expectancy - uses Thermoplastic components and tested to 30,000 cycles
Smooth operation - patented lipped slider
Easy friction adjustment - without metal-to-metal contact
Friction screw misuse eliminated - robust cam friction device
High standard weather sealing - BS6375 Part 1
Quality Ferritic steel - BS EN ISO 10088/2 Grade 1.4016
Product Specification
Side Hung Hinges
Hinge Length
Max Vent Weight
Max Vent Width
Min Vent Width
Hinge Dimension
Opening Angle
(+/- 2.5°)
12" / 310mm
48lbs / 22kg
23.6" / 600mm
12" / 300mm
6.77" / 172mm
60°
16" / 412mm
53" / 24mm
27.6" / 700mm
16" / 400mm
6.69" / 170mm
60°
Ordering the correct hinge
You can order this top-hung hinge with either a 13mm or a 17mm Stack Depth (see C below). To order the correct hinge you must be aware of the following choices:
Hang Type - Top Hung swings from top with handle on the bottom of the sash. Side Hung swings vertically from one side with handle on opposite side (see A in diagram below)
Hinge Length - length of the part that fixes to window frame (see B in diagram below)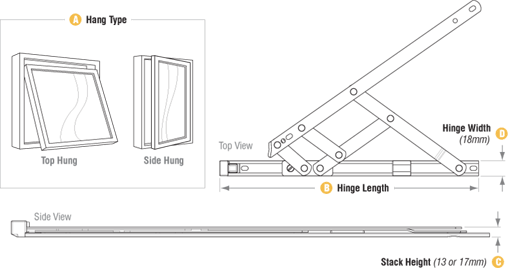 This hinge is 18mm wide (see D in diagram above). It is the most common width and used for the vast majority of modern uPVC and aluminium windows. We recommend that you check this measurement, some older window frames may require a size of 14mm, this is quite rare.
Related links to "12" Securistyle Window Friction Hinge (Side Hung)"
Read, write and discuss reviews...
more
Customer review for "12" Securistyle Window Friction Hinge (Side Hung)"
Write a review
Reviews will be activated after verification.