Ultraframe Double-Ended Victorian Ridge Kit
Product Code:

ULT-1224-1001

Manufacturer Code:

ULT-1224-1001

Package Type:

Parcel M

Shopping Category:

Hardware > Building Materials > Roofing
Ridge Capping for Double-Ended Victorian Conservatory Choice of Length, Colour and...
more
Product information "Ultraframe Double-Ended Victorian Ridge Kit"
Ridge Capping for Double-Ended Victorian Conservatory
Choice of Length, Colour and Finishing
Made by industry leader Ultraframe!
Complete PVC-u ridge capping for double-ended (twin-hipped) 3 or 5 facet bay-fronted conservatories. Offers long-life performance with great resistance to UV discolouration.
Highly effective solution for sealing leaking ridges of PVC-u or timber conservatory roofs. Formed from the Ultraframe Classic roof system, this kit is also a natural replacement product for a missing or damaged Ultraframe Classic ridge.
Features & Benefits
Universal Fitting - can fit timber and PVC-u roofs
Greater Coverage - deeper, wider capping
Long-life Performance - strong PVC-u moulding
Attractive Finish - smooth, medium sheen finish
Stable PVC-u - high resistance to discolouration
Low Maintenance - easy to clean, even the cresting!
Radius End Fixings - fabricated Locating Studs and pre-drilled ridge Stud Holes
Fixings Supplied - includes Ultraframe Ridge Bolts and screws
High Quality Parts - approved by the BBA
BOCA Approved - part of Ultraframe's approved roof system
The ridge is the lynch pin of a roof, so it deserves the best. This Victorian Ridge Kit uses parts approved by the British Board of Agreement (BBA) and which form part of Ultraframe's BOCA approved Classic conservatory roof system. So you know you are buying parts that have been well manufactured with quality materials. This attention to detail goes as far as the use of special resins and stabilizers in the production of the PVC-u that help to protect against discolouration caused by UV light from the Sun.
The Victorian Radius End capping is also a good choice for Georgian conservatories where end pitch differes from side pitch.
PLEASE NOTE Lengths over 3m are supplied as two sections with a Ridge Top Cap Inline Jointer to seal the underside of the abutting sections.
---
Technical Information
Material
PVC-u (Radius End Capping)
PVC-u (Ridge Top Capping)
Capping Colours
White, Chocolate Brown and Caramel (Medium Sheen)
Radius End Capping Size
Width: 464mm
Height: 100mm (excluding Brushes and Finial)
Length: 314mm
Ridge Top Capping Size
External Sizes
Width: 178mm
Height: 100mm (inc. Cresting Channel)
Length: 2m, 2.5m, 3m and 4m

Internal Sizes (see illustration above)
Body Width: 110mm
Skirt Width: 166mm
Height: 75mm
Kit Contents

Ridge Top Capping (KCP 600/1)
Cresting & Finial - Low-Profile Cover (FUD 001 and CUD 600)

or

Pikestaff & Renaissance (PSF 004 and CCE 100)
2 x Victorian Radius End Caps (inc. Radius End Brush

(VBLA 069/1)

)
Ridge and Radius End Fixing Kit (Ridge T Bolts (KTBA 001/1) with

Tommy Bars and

Fixing Wedges (KTBA 001/2), Wood Screws & Plastic Washers, Starloc Washers (SCRA 004))
---
Fitting the Victorian Ridge Kit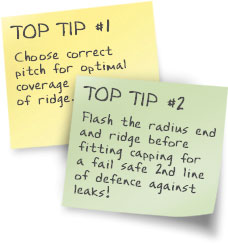 Fitting the Victorian Ridge Kit is fairly straight forward and requires just a small selection of basic tools. However, as with any work carried out at a height, great care should be taken.
The roof should be prepared first with flashing applied, if required. The ridge is then prepared, which includes cutting the Ridge Top Capping to length and fixing to the Radius End Capping. The complete assembly is then offered up to the roof and secured with either the supplied Ridge T Bolts or screws.
The Victorian Ridge Kit includes a Fitting Guide that provides some helpful pointers to help you assemble and fit the ridge.
Related links to "Ultraframe Double-Ended Victorian Ridge Kit"
Read, write and discuss reviews...
more
Customer review for "Ultraframe Double-Ended Victorian Ridge Kit"
From:
Michael
On:
10 Apr 2022
I am after a replacement ridge with the rectangle ends not the arched ones can you confirm the part number for this please
Write a review
Reviews will be activated after verification.